Updated:

10/09/2015 @ 1:38:00 pm

Temperature
Current Conditions
Morehead City Forecast

Currently Outside:



76.6°F



Heat Index:

78.2°F


Feels like:

78°F




---



High Today


79.5°F



Low Today


58.8°F



Yesterday High


80.6°F



Yesterday Low


58.1°F




It is Dry




Wind:

S




0.0


Peak Gust:


2.7

mph
Rain:


0.00 in

Updated at: 1:10 pm EDT Oct 9, 2015
This
Afternoon

Sunny


Hi

80 °F

Tonight


Partly Cloudy
then Chance
Showers

Lo

68 °F

Saturday


Showers


Hi

73 °F

Saturday
Night

Showers
Likely

Lo

59 °F

Sunday


Chance
Showers

Hi

71 °F


Click here for full Forecast

Dew Point
Liquid Precipitation
Wind
Sun/Moon

Dew Point:

67.7°F

In Last Hour:
0.0°F
High Dew
Point:
68.6°F
at 10:29 AM
Low Dew
Point:
56.2°F
at 5:56 AM
Wetbulb:

70.8°F

Leaf Wet:7

0

Today:
0.00 in
Yesterday:

0.00 in

Last 7 Days:

0.00 in

October Rain:
9.67 in
Yearly Rain:
62.58 in
Last Rain
Time/Date:
---
at -
112 rain days in 2015
6 days in October
2 days since last rain

Current Wind:

S

at


0.0 mph

Gusting To:

0.0

Max Gust:

2.7

@

10:30 AM

1Hr Average:

Calm

Max Gust
This Month:

41.4 mph


on Oct 5
Wind Run:
0.17 miles

Daylight:
12 hrs 6 min
of Daylight Today



50.4%

49.6%


which is
0 min 16sec Shorter
than Yesterday



10%


Illuminated

Humidity
Barometer

Humidity:

74

%
In Last Hour:
0%
High
Today
92%
at 6:26 AM
Low
Today
68%
at 10:52 AM

Current:
30.100 inHg
In Last Hour:
Steady
High
Today:

30.140


at 12:00 AM

Low
Today:

29.966


at 4:25 AM


Cooling Degree Days
Atlantic Beach Tides
Heat Index
Air Quality

Today:
0.0
October:
43.6
2015 to Date:
1941.5
Heating Degree Days
2015 to Date:
1.8

4 hours, 8 minutes to high tide at
05:47 PM EDT


Fri 09 October
High Tide: 0530 4.1
Low Tide: 1137 0.7
High Tide: 1747 4.1
Low Tide: 2359 0.6


Click for Tide Table

Current:

78.2°F

Today:

79.5°F

10:52 AM

Yesterday:
82.8°F

Quality
Index6:
36


Density:
1.182 kg/m

UV Forecast
Solar Summary

Sunrise is at: 1:44 am
Solar Noon: 07:47
Sunset is at: 1:50 pm

Almanac
Estimated Cloud Height
Station All Time Records
Fire Danger

| | |
| --- | --- |
| Sunrise: | 1:44 am |
| Sunset: | 1:50 pm |
| Moonrise: | 11:11 pm |
| Moonset: | 11:31 am |
| Full Moon: | 28 September 2015 |
| New Moon: | 00:07 UTC 13 October 2015 |

| | |
| --- | --- |
| HIGHS: | LOWS: |
| 98 on July 31, 1999 | 12 on January 24, 25, 2003 |
NWS Weather Forecast - Outlook This Afternoon & Tonight
This
Afternoon

Sunny


Hi

80 °F

NWS forecast: Sunny, with a high near 80. Southwest wind around 9 mph.

Tonight


Partly Cloudy
then Chance
Showers

Lo

68 °F

NWS forecast: A chance of showers after 4am. Increasing clouds, with a low around 68. Southwest wind around 10 mph. Chance of precipitation is 30%. New precipitation amounts of less than a tenth of an inch possible.
Animated icons courtesy of www.meteotreviglio.com.
NWS 4-Day Weather Forecast
Saturday


Showers


Hi

73 °F

Saturday
Night

Showers
Likely

Lo

59 °F

Sunday


Chance
Showers

Hi

71 °F

Sunday
Night

Chance
Showers

Lo

65 °F

Columbus
Day

Chance
Showers

Hi

75 °F

Monday
Night

Chance
Showers

Lo

64 °F

Tuesday


Partly Sunny


Hi

77 °F
Version 6.71 12-Sep-2012 - Script Mods by: WebsterWeatherLIVE.com
24-Hour Temperature Graph
24 hr. Wind
24-Hour Pressure Graph
24-Hour Dewpoint Graph
Day One Severe Outlook
Day Two Severe Outlook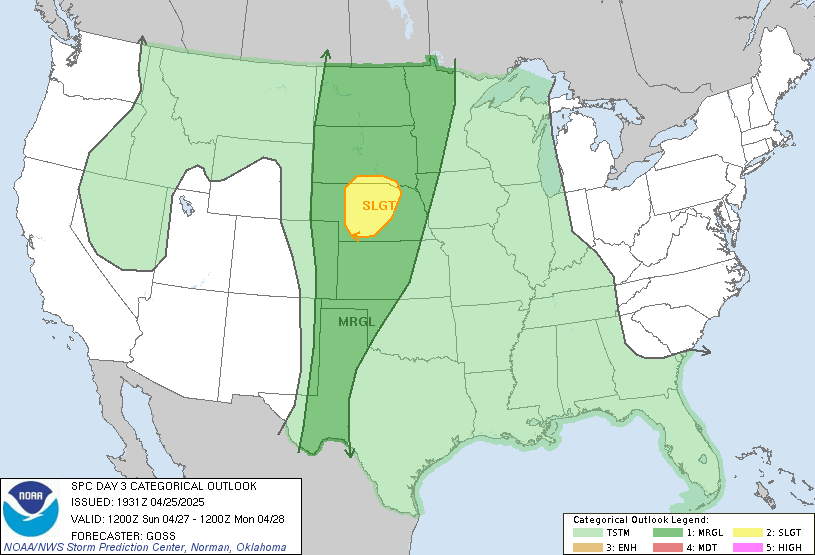 Day Three Severe Outlook
Day Four To Eight Severe Outlook
National Lightning Strikes
Southeastern Lightning Strikes
Northeast Lightning Strikes
Buoy Data/Morehead City Webcam
Cape Lookout Observation
Downtown Morehead City Webcam